Aaron Equipment Company is an authorized distrbutor of new custom diesel generators from Blue Star Power Systems. Blue Star diesel generators are powered by engines from major manufacturers like Cummins, John Deere & Mitsubishi. Generators available range from 25kW to 2250kW. Custom generator sets can be wired as 1/60/120/240 or 3/60/208,240,277-480V.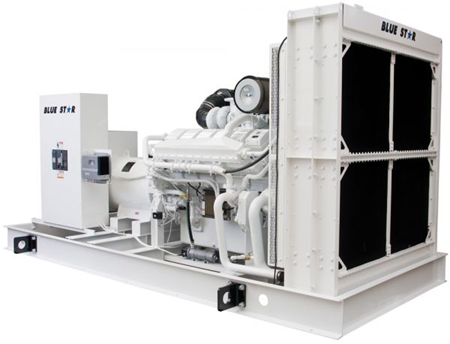 Custom generator sets by Blue Star can be supplied as open power units, with weather or sound enclosure. The diesel units can be supplied with 24 or 48 hour sub-base fuel tanks and other custom sizes. Blue Star generator options we can supply include PMG excitation, remote monitoring panels and automatic transfer switches.
Many of our custom diesel generator sets can be built as a UL 2200 package as an option. All generator sets meet all the current EPA standards for all 50 states.
Gaseous Generator | Standard Gaseous Product Line 60 Hz | 1800 RPM
Diesel Generator | Standard Diesel Product Line 60 Hz | 1800 RPM
Diesel Generator | Interim Tie 4 Diesel 60 Hz Generator
Diesel Generator | Standard Diesel Product Line 50 Hz | 1500 RPM
| | | | | | |
| --- | --- | --- | --- | --- | --- |
| Unit Model | Engine Model | EPA | Standby kWe | Prime kWe | Spec Sheet |
| JD25-50-01 | 4024TF220 | Non Certified | 31 | Consult Factory | Consult Factory |
| JD35-50-01 | 5030TF220 | Non Certified | 44 | Consult Factory | Consult Factory |
| JD56-50-01 | 4045TF220 | Non Certified | 70 | Consult Factory | Consult Factory |
| JD72-50-01 | 4045TF220 | Non Certified | 90 | Consult Factory | Consult Factory |
| JD90-50-01 | 4045TF120 | Non Certified | 113 | Consult Factory | Consult Factory |
| JD104-50-01 | 6068TF220 | Non Certified | 130 | Consult Factory | Consult Factory |
| JD140-50-01 | 6068HF120 | Non Certified | 175 | Consult Factory | Consult Factory |
| JD160-50-01 | 6068HF120 | Non Certified | 200 | Consult Factory | Consult Factory |
| JD200-50-01 | 6081AF001 | Non Certified | 250 | Consult Factory | Consult Factory |
| JD235-50-01 | 6081HF001 | Non Certified | 294 | Consult Factory | Consult Factory |
| JD320-50-01 | 6135HF475 | Non Certified | 400 | Consult Factory | Consult Factory |
| JD360-50-01 | 6135HF475 | Non Certified | 450 | Consult Factory | Consult Factory |
| JD400-50-01 | 6135HF475 | Non Certified | 500 | Consult Factory | Consult Factory |